FIRE ALARM SYSTMS
Your optimal protection is our aspiration!
In order to be able to warn the people inside a building, and protect the technical facilities, office buildings, warehouses or similar from fire damages in case of a fire, a quick reaction is vital.
The  fire alarm systems/fire control panels being designed and recommended by us, fulfill all  requirements to protect your employees, residents or material goods.
Our partners:
Definition: A fire alarm system is an alarm system from the field of preventative fire protection, which receives the incident reports from various fire detectors, analyses and then reacts.
As a reaction, there are different technical installations that can be controlled f. e.:
forwarding a fire alarm to the constantly occupied control center in order to alarm the local fire department
release of an internal alarm, so it can be controlled in case of a false- or deceptive alarm, before it gets forwarded to the fire department
release of an alarm sound for evacuation of an object
opening of smoke removal systems
activation of elevators
closing of fire barrier
release of object extinguishing system, f. e. CO2-extinguish system
With pleasure will we create a plan together with you to fulfill all legal requirements, as well as take care of the installation and set up of a specifically suited for you system. Also an individual maintenance schedule  will be subsequently created for you at a beneficial price.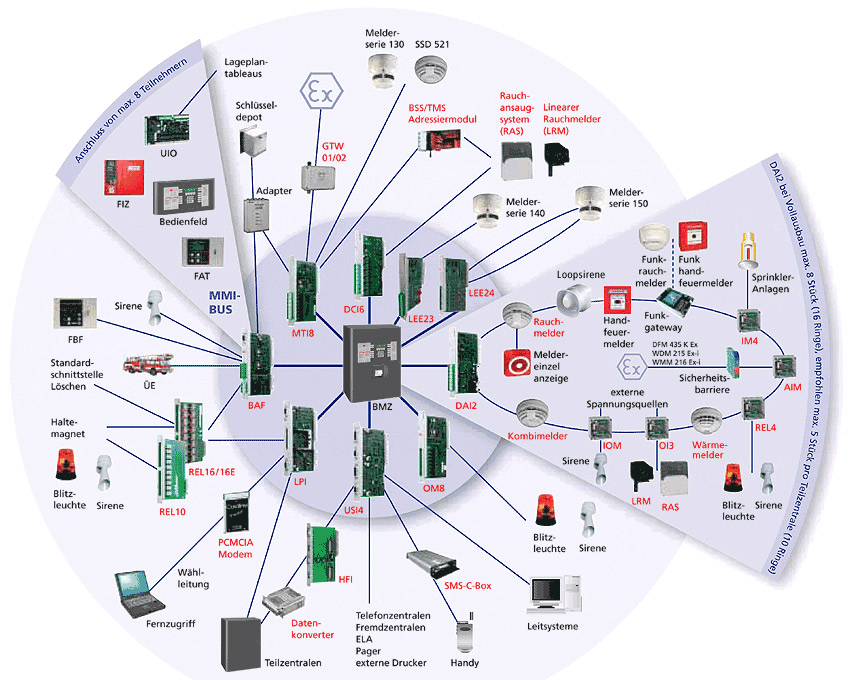 Why are smoke alarms so important?
Especially during the night are we defenseless in case of a fire. Our sense of smell isn't active throughout the deep-sleep phases and that often carries deadly consequences. The only possibility therefore is, to be woken up on time in case of a fire by the sound of a properly installed smoke alarm. The volume is loud enough to pull a sleeping person out of their dreams and therefore warn them about the fire.
You don't have a smoke alarm or need a replacement, no matter if commercial or private: contact us – our trained employees will happily consult you.